CLAREMONT YOUNG MUSICIANS ORCHESTRA

The Claremont Young Musicians Orchestra (CYMO), founded by Roger and Janet Samuel in 1989, is comprised of musicians, ages 12 to 20, who attend public and private schools in Southern California. The CYMO presents major symphonic works and soloists in concert each year at Bridges Hall of Music on the Pomona College campus. Other venues include Walt Disney Concert Hall in Los Angeles, the Hollywood Bowl, Mabel Bridges Auditorium at Pomona College, Garrison Theater at Scripps College, Gardiner Spring Auditorium in Ontario, Haugh Performing Arts Center at Citrus College, Upland High School, and Disneyland. The orchestra provides special concerts for children, community programs, and chamber music performances. The CYMO repertoire is expansive and includes works by Tchaikovsky, Hindemith, Copland, Britten, Rimsky-Korsakov, Mozart, Beethoven, Brahms, Borodin, Mahler, and Shostakovich.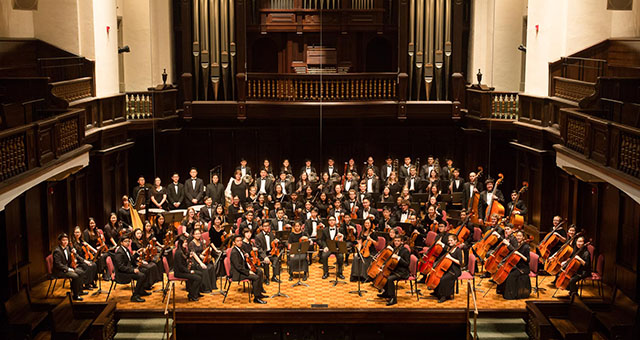 PERFORMANCES & ACHIEVEMENTS
The CYMO took its inaugural European Concert tour in 1997, performing at the Rudolfinum in Prague, Czech Republic; the Mozarteum in Salzburg, Austria; the Schonbrunn Palace in Vienna, Austria; the Kleine Theater in Oberammergau, Germany; and at the South Bohemia Music Festival in Bechyne, Czech Republic. The CYMO returned to Europe in 2000, performing at the Municipal Theatre of Tours, France; the Theater of Champs Elysees in Paris; the International Music Festival in Meiringen, Switzerland; Saint Francis Basilica in Assisi; and at Saint Angelo Castle in Rome. New European venues on the 2007 and 2013 tours included the Schlessheim Castle in Munich, Terme di Montecatini, the Obecni Dum in Prague, the Chiese di Santa Teresa and the Verdi Theater in Padua, Italy
In May 2005, the Los Angeles Philharmonic presented the Claremont Young Musicians Orchestra in concert at Walt Disney Concert Hall as one of their "Sounds About Town" concerts. The orchestra returned to Walt Disney Concert Hall in 2009 to perform at the Youth Orchestra Festival Day as part of the Los Angeles Philharmonic's Youth Orchestra Partners Program, and again in 2012 to perform as an LA Philharmonic "Premiere" youth orchestra. In May, 2015, the CYMO was conducted in rehearsal by Gustavo Dudamel, Music Director of the Los Angeles Philharmonic Orchestra. The CYMO presents a member of the Los Angeles Philharmonic as soloist with the orchestra each January
Many graduates of the CYMO have attended the most prestigious music schools in the country including the Juilliard School of Music, the University of Southern California Thornton School of Music, the Oberlin Conservatory, the Eastman School of Music, the New England Conservatory, the Colburn School, Cleveland Institute of Music, Mannes College, Yale University School of Music, the Peabody Conservatory, Berkeley College of Music, the San Francisco Conservatory, the Shepherd School of Music, Northwestern University, and Indiana University, among many others. Numerous CYMO alumni are performing with or involved in the management of orchestras worldwide.